About Us
Odyssey is an industry-leading expert in telecommunications for business. Our goal is always to become a trusted partner for your business, not merely a faceless service provider. We are passionate about solution-based telephony and broadband systems for your business, irrespective of size and industry sector. We ensure businesses stay in touch. Be that via the latest broadband connectivity or a robust desk phone system, we have a beautifully simple purpose: Keep Business Talking
The Odyssey Difference
Customer First
Customer service is an overused and largely devalued concept in modern business. Many companies claim to offer exceptional customer service, few consistently deliver. The needs of every Odyssey customer is central to every decision we make. But don't take our word for it…
The IT Managers Best Friend
Our customers don't view us as merely a supplier. We are a trusted partner. Integrating our solutions with existing and planned IT infrastructure is key to the special relationship we have with all our customers.
Invest for Confidence
With many telecoms providers you are purchasing the services of another supplier through a slick third party. Not so at Odyssey. We invest continuously in the latest technology and infrastructure to ensure our customers deal with us and only us for all their telecommunications needs. The resilience and reliability of our service is paramount.
Innovation Through Evolution
We have been focused on business telecommunications for over 30 years. To us, true innovation needs to have foundations in experience. Without direct, first-hand knowledge of where the industry has been, how can you confidently support where it's going?
Awards
Odyssey Systems strive to continually offer the highest possible customer service. This dedication to our customers has been recognised by local bodies and international suppliers alike.
Below are just some of the awards that Odyssey Systems has been proud to receive.
Service Award Winners
North East Business Award 2013

Service Award Winners
Teesside Business Awards 2013

Service Award Winners
Teesside Business Awards 2012

The Best Partner Award
for outstanding performance
LG BCS Products

The Best Partner Award
for partnership and cooperation
LG BCS Products

The Top UK Reseller Award
LG Information and Communication Ltd

The Privilege Partner Award
for cooperation and support
Energis

The Service Partner Award
for direct access and private circuits
Energis

Best dealer of the year
LG Ericsson

Careers
At Odyssey it is no happy accident that we have exceptionally high staff retention. The great service we provide to our customers can only be delivered by a team of happy and motivated people.
If you'd like to join our ever-more ambitious team of happy people, feel free to get in touch. Word of warning though, don't just drop us a speculative email or throw over a hastily cobbled together CV, give us a call. Talking is, after all, at the very heart of our business.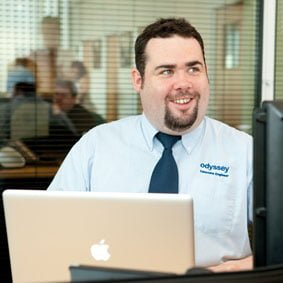 No two days are ever the same at Odyssey Systems! I've been with the company now for nearly 15 years and learn something new every day. The business has supported me through my Cisco CCNA and CCNP certifications, however there is nothing like delivering solutions in the real world to sharpen your skill set. It's extremely satisfying working closely with our sales team to help win business, then having total ownership of the project installation through to completion.

John Feeney
Senior Engineer
To find out more about how we can help keep your business talking, get in touch today.