Wear Referrals
North East veterinary specialists Wear Referrals looked to build a state of the art Emergency Hospital and Veterinary Surgery in Bradbury, Stockton on Tees. Their ultimate aim is to be a centre of excellence, both clinically and educationally and needed to have the infrastructure for their telecommunication and connectivity to help them achieve that.
The location for the new premises had to be great for access for patients. They found the ideal semi-rural location, just off the A1 motorway. Giving easy accessibility and great location for development; however the location is in a notorious internet black spot.
They had a vision of State of the Art facility with MRI , CT Scanner, Fluoroscopy, Chemotherapy ward, Rehabilitation ward and it's very own lecture theatre.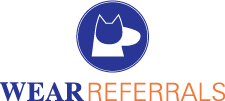 ---
After assessing a range of options, the Odyssey technicians installed stand-alone microwave mast dedicated to Wear Referrals. This provides internet speeds of up to 20mb – more than enough to simultaneously cope with the demands of the company's medical equipment, and at a fraction of the cost of a leased line.
Wear Referrals' facility is equipped with a range of advanced medical equipment to treat pets of all sizes; some of equipment will consume large amounts of data whilst in operation, such as the MRI scanner.
Under normal circumstances the Odyssey team would have prescribed the installation of a leased line, however, in this case it would have not been a cost-effective solution.
Opening a new hospital is very complex and time consuming, so it was important that we chose a company able to work around our schedule. Its engineers gave us regular updates throughout and completed the job at hand without causing any interruption.

Stacy Burleigh, Practice Manager
To find out more about how we can help keep your business talking, get in touch today.
---