Moduloft
Moduloft is a unique loft solution that is designed and developed in the factory to ease disruption on site.  Every modular loft conversion project is individual and tailor-made and once on site the Moduloft conversion is completed in a only a few weeks.
Having a large factory footprint, Moduloft needed to have a robust telephone system for hard-wearing factory use and for numerous administrative offices throughout the entire site.
Having outgrown their original joinery factory buildings, Moduloft relocated their entire factory and head office team to a new factory just off the A1 in North Yorkshire .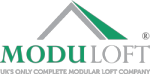 ---
Being so unique, Moduloft generates a lot of interest from consumers interested in commissioning a Moduloft for their home loft extension and inbound telephone calls make play a large part of the sales process for the buiness, so it was vitally important to choose a robust telephone system.
A Mitel ? system was selected for all desk phones in the administration offices and within the factory. A ? Conference phone was installed in the boardroom to allow for multi party conversations, which makes use of a virtual meeting room supplied by Odyssey Systems.
Within the sales office headsets were chosen to allow for the sales team to talk handsfree on the telephone whilst being able to use their computers to locate drawings and files.
Having worked with Odyssey Systems before, I had no hesitation to ask them to be our telephony supplier at Moduloft. I am always impressed with the quality of products they offer, the workmanship of their engineers and levels of service from their Customer Service team.

Alan Gulliver, Group Managing Director
Ongoing support delivered by the customer service team, ensures that changes to the phone system are made rapidly, such as scaling up when new members of staff join the team and ongoing training is also delivered to ensure the most is made of the system
Auto attendant was recorded so the caller could get through to the team that they wanted quickly and efficiently and an Out of Hours phone divert is used when the office is closed by simply forwarding the main office number to a designated mobile phone, ensuring no important calls are missed.
To find out more about how we can help keep your business talking, get in touch today.
---