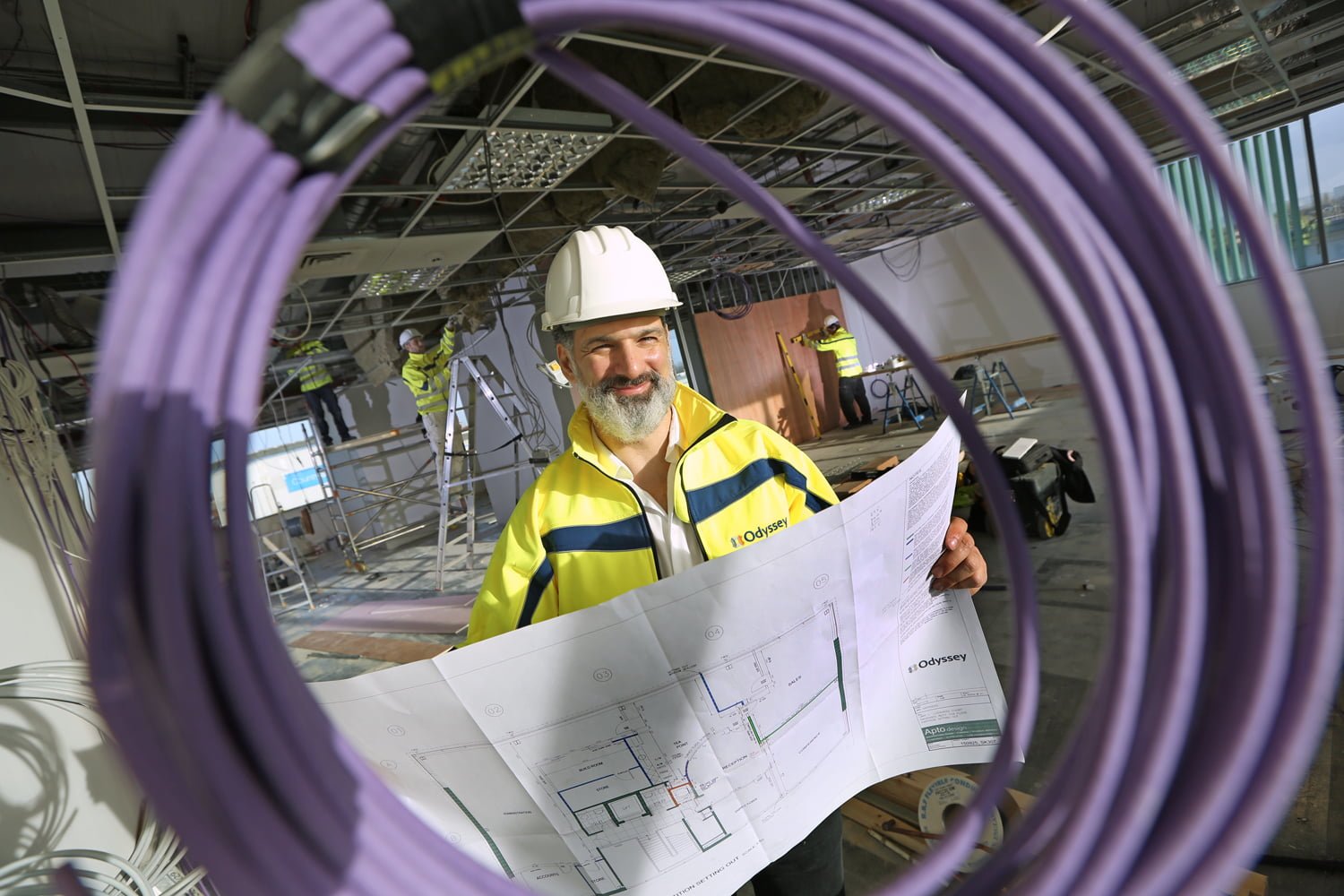 Continued growth at Odyssey Systems has led to the Tees Valley-based telecommunications technology specialist expanding into new premises.
The move has been made possible after Odyssey Systems acquired the former Thirteen Group building opposite its current headquarters at Preston Farm, Stockton.
The company is currently undertaking a significant refurbishment and fit-out of the building and plans to move in before the end of February.
Odyssey Systems, which provides telecommunications and connectivity systems for business, has experienced strong growth in the past four years and has increased its workforce from 26 to 30.  As a result of the move into larger premises, Odyssey Systems aims to create a further six new jobs in the next three years.
In addition to developing the top floor of the building for its own operations, Odyssey Systems has also refurbished a further 20,000 square feet to create new, fully-fitted offices for business tenants.
The company is also utilising some the additional space to introduce a dedicated video conferencing suite and a technology demonstration area.  Odyssey is also creating a new stock and technology storage facility, which will hold the complete telecoms systems and replacement parts for both current and past models from its long-term technology partners Mitel, and LG.
The new building will also enhance the company's internet services to its clients.  Due to the building's height and the installation of connectivity masts, Odyssey will increase the reach of its long-range microwave high speed leased line signals, which can extend to a range of 30km.
Odyssey System's new headquarters is the latest in a series of recent investments by the company, which has included the introduction of a new fleet of 12 branded Ford Connect vans.  It also recently achieved the ISO: 9001 accreditation, which highlights the company's ongoing commitment to delivering exceptional levels of customer service.
Mike Odysseas, Managing Director of Odyssey Systems, said: "We have enjoyed continual growth in recent years, which has facilitated the need for the new offices.  By building strong relationships with companies across the North East and establishing partnerships with technology partners such as Mitel, which has enabled Odyssey to work with larger business customers, we are in a strong position for the future.
Mike added: "Expanding into these new premises has also enabled us to support the growth of other businesses.  The additional space we have created will be attractive to businesses, which will benefit from being located in this thriving part of Tees Valley and the infrastructure we have incorporated, such as hosted telephony and superfast internet speeds."