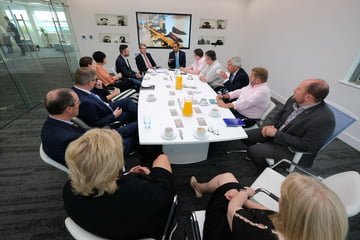 The Government's Small Business Commissioner has outlined his plans to tackle late payments to small firms after meeting with several Tees Valley business owners at an event hosted by telecommunications firm Odyssey Systems.
Paul Uppal highlighted how he is addressing the late payment issue for small businesses, which, collectively, costs £2.5bn each year at the event. It was attended by a range of businesses from different sectors, including Coles Solicitors, Erimus Insurance, Work Matters and Armstrong Richardson.
Mr Uppal visited Odyssey's Stockton head office as part of a wider visit to the region, where he met with business owners from across the North East.
According to official figures, a third of payments to small businesses are late with the average value of each payment at £6,142. This has led to 20 percent of small businesses running into cash flow problems due to late payments.
The office of the Small Business Commissioner was launched in December 2017 to ensure fair payment practices for Britain's 5.7 million small businesses, support them in resolving their payment disputes with larger companies and bring about a change in payment practices between businesses and across sectors.
Paul Uppal, Small Business Commissioner, said: "The issue of late payment is crucial as we estimate that over 50,000 small businesses go bust each year because of it. It is a huge impediment on business growth, and we have already had real, quality conversations with business owners from a range of sectors to help tackle the late payment issue."
Christine Gilbert, Director of Odyssey Systems, said: "As a major service provider to many small businesses, late payments can have a crippling impact on firms as cash flow issues can affect people's jobs. It was good to learn more about the Commissioner's role and commitment to addressing this problem, and I'm sure it was equally useful for him and his office after hearing from the small business community in Tees Valley and from across the North East."