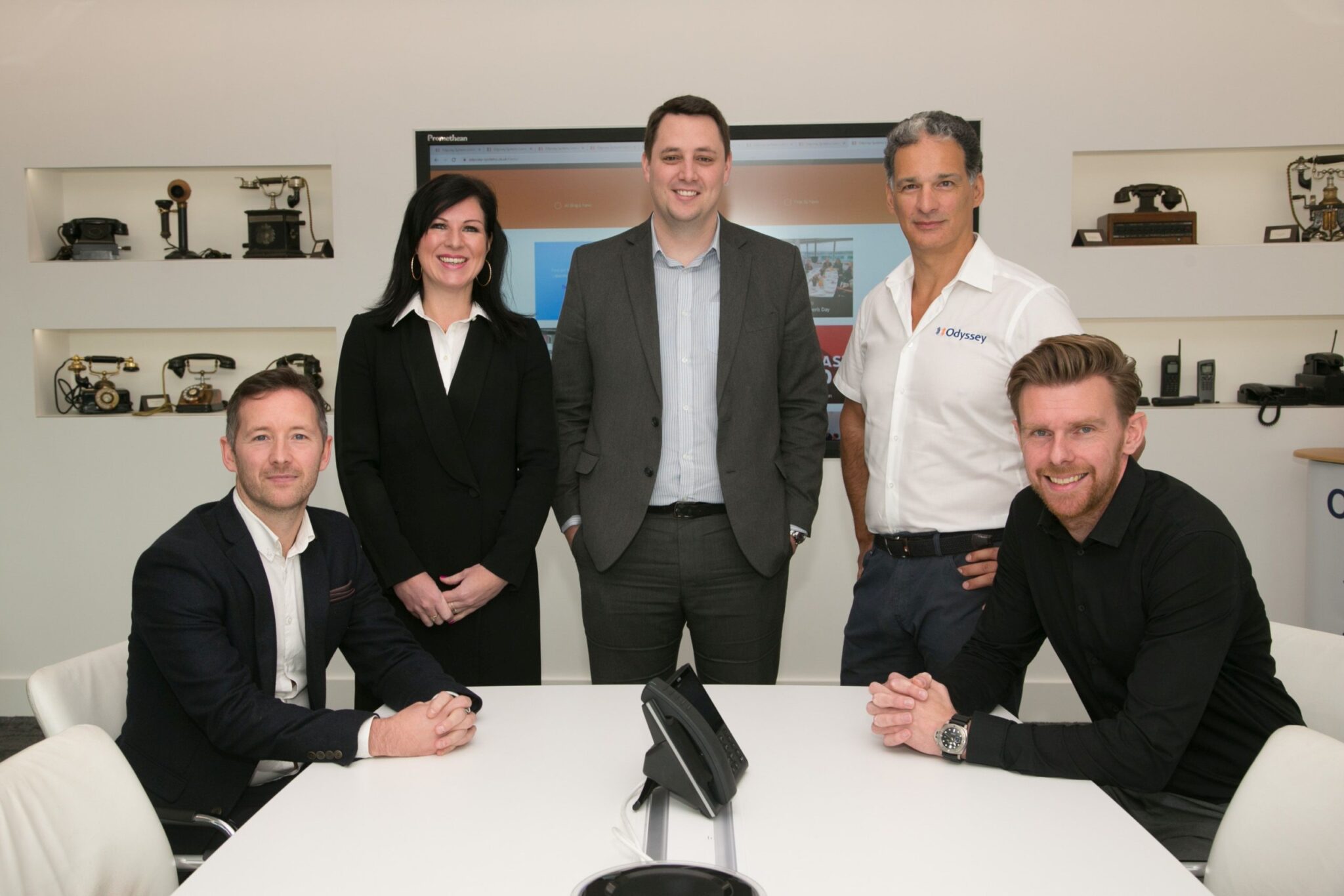 The Tees Valley Mayor has hailed the collaboration between three growing businesses as a blueprint for future success.
Ben Houchen toured the offices of Odyssey Systems, Lemon Business Solutions and Vintage at Preston Farm Business Park, Stockton, where he met staff and learned more about their achievements.
Odyssey Systems not only supplies business critical IT and telecommunications systems to both companies but has provided the extra office space necessary to allow both to expand.
Call management specialists Lemon, which is based on the first floor of the Odyssey building, has taken over the ground floor previously occupied by chartered financial planners, Vintage.
In turn, Vintage has moved into an adjacent 3,250 sq. ft office building also owned by Odyssey.
Both Lemon, which employs 80 people and last year generated a turnover of £2.4m, and Vintage, which has grown its staff from 10 to 17 following a period of rapid expansion, rely on Odyssey's industry-leading hosted telephony system.
As their landlord, Odyssey's onsite presence also brings with it the reassurance of close technical support. Its cloud-based telephony system is highly cost-effective and offers businesses greater reliability and flexibility, allowing users to make calls on any device from any location.
Mayor Houchen said: "Small and medium size enterprises are the backbone of our economy and it was great to visit three local companies working so closely together. All three firms have developed a reputation second to none in their respective sectors and it's fantastic to see them working so closely together.
"This type of business collaboration across Tees Valley is one of the ways we are going to grow our economy and create the good quality well-paid jobs we all want to see."
Mike Odysseas, founder and Managing Director of Odyssey Systems said: "We view Lemon Business Solutions and Vintage not only as valued customers, but as neighbours and we are keen to support our fellow businesses in whatever way we can.
"A reliable and resilient telecommunications system is vital to both companies, especially to Lemon, which last year handled 2.5m calls, and we are able to guarantee their connectivity is second to none.
"We are also a responsible landlord and are delighted to have helped both companies grow."
Martin Anderson, who is Lemon's joint managing director, along with Lesley Wratten, said: "The Mayor expressed a great deal of interest in our business and it was a pleasure to welcome him to our offices.
"The most important thing about being a contact centre is that our customers can be confident that we can provide a reliable service 24/7. Our presence in the Odyssey building is key to that, offering us extra reassurance and excellent customer support.
Sam Tate, Managing Partner at Vintage, said: "We have an ever-growing reliance on technology and the infrastructure that Odyssey provides, along with our new office, has allowed us to grow our business.
"The Mayor is passionate about creating jobs in the area and I hope he was encouraged by what can be achieved when businesses work together."