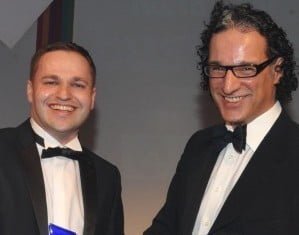 We are proud to announce that Odyssey has won the North East Business Awards Service Category for the second year running.
The services award recognises professional service organisations that have demonstrated strength in a number of areas, including Service Excellence, Service Differentiation, Business Growth, and Innovation.This year we faced strong competition from Lemon Business Solutions and Visualsoft eCommerce, both of whom are renowned for their exceptional customer service. We now progress to the regional finals of the competition, held at Hardwick Hall on April 25th.
After our awards success in 2012 we looked into how we could further deliver excellent customer service. We have done this by releasing a new customer focused website with innovative market leading features. Our 360 degree product spins and a customer help and support page with live chat features offer advanced customer engagement and offers another level of customer interaction.
The awards really are a testament to the time and effort we put into delivering excellent customer service and it's an award that all at Odyssey are proud to receive.