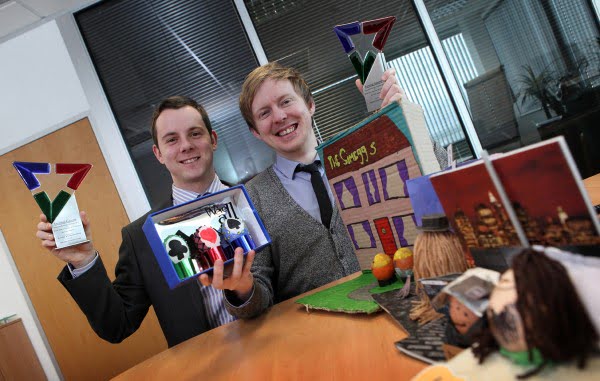 Almost 500 votes were cast in a charity Easter egg decorating competition organised by telecommunications firm Odyssey Systems after the contest was judged via Facebook for the first time.
Eight staff members at Odyssey created their own individual eggs ranging from a depiction of John Lennon and "Yolko" Ono to the Addams Family, with £100 being donated to the Stockton on Tees-based charity Daisy Chain, which supports families affected by autism, a similar cash prize for the winner.
In contrast to previous years, where a director has judged the competition, the winning egg was chosen via Facebook, with members of the public voting for their favourite by clicking the "Like" button after photographs of each egg were posted to odysseysystemsltd Facebook page, with 497 votes cast.
The winner, with 141 "likes", was James Hay, with his mad hatter egg party. It is the start of a very big week for James, who works in Odyssey's broadband team, as his partner, Victoria, who helped to make the winning creation, is due to give birth to their baby.
Anthony Suddes. Marketing Manager at Odyssey Systems, organised the competition. He said: "Our Easter egg competition is a longstanding tradition that is a great way to welcome in the Easter period. We've now started to engage with our customers and the public through social media and thought Facebook would be a fun and fitting way to decide the contest.
"Matching the prize fund with a donation to charity is something that we are proud to do to help Daisy Chain,where we know the money will be put to good use. James's design was very creative and a worthy winner."
James added: "I am delighted to have won the Easter egg contest this year – it is always very competitive within the office, so I'm very proud to be the title holder until next year. The extra cash is a great bonus and will certainly come in handy with the imminent birth of our new baby – I've already worked out how many nappies I can buy with my winnings!"
Daisy Chain is Odyssey Systems' nominated charity, and staff will be taking part in a series of sponsored activities to raise funds for the charity, including Mike Odysseas, Andrew Middlesmiss and Matthew Park cycling 300 miles from Teesside to London.