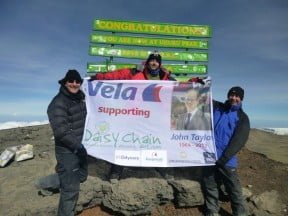 Well done to our friends at the Vela Group for completing the massive feat of climbing Mt Kilimanjaro,
The team, which included Vela Group Chairman Mike Clark, Group Director of Operations Dave Pickard, Board Director Johnny Lighten and Customer Service Advisor Paul Cornforth, completed climb up the 20,000ft mountain in Tanzania to raise funds for the Stockton based Daisy Chain Project,
The trek was dedicated to the memory of John Taylor, Vela group Director of resources who sadly died in an avalanche whilst trekking up Mt Blanc in 2012,
When Odyssey heard the plight of the Vela group and the added poignancy of the climb, we were more than happy to add our sponsorship. In return they were gracious enough to add our Logo onto their corporate banner.
The Daisy Chain Project is Odyssey's charity of choice, and we have been providing the Autism charity telecommunication and broadband solutions for a number of years.
So can we now say, we really do go to the edges of the earth for our customers?