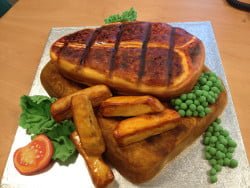 These are Odyssey birthdays!
Kris
We always look forward to celebrating a birthday here at Odyssey and one of those reasons usually revolves around the fact that we have a chance to eat cake, guilt free. So a special gift from the directors each member of staff receives a carefully thought out bespoke birthday cake encompassing one of their specific interests. It was therefore no surprise when we saw SIP specialist, Kriss Sowerby's cake it revolved around food as Kriss' love and interest for food is by no means a secret to the rest of the Odyssey office. Im sure you will agree this absolutely fantastic "cake take" on Steak and Chips looks as good as the real thing. This delight was whipped up by the Magic hands of Kathryn Hardy from Much Ado About Muffins, based in Stockton on Tees, and we were told it was absolutely delicious.
Andrew
Not one to make a huge fuss about his Birthday, Andrew normally manages to avoid the Odyssey cake ritual by taking a strategic day off and not mentioning a word about the big day until after the event. This year we were wise to his actions, although Andrew did take the day off for his birthday we surprised him a day later with this truly fitting cake. As Odysseys accountant the cake made by Karen at The Cake Works in darlington encompasses everything that Andrew loves, including spread sheets, cricket and cycling. One staff member did however joke that the cake maker had been generous with the amount of hair they had placed on Andrews head, Happy Birthday Andrew.
Richard
A big Happy Birthday to Richard Finn, part of the Odyssey Accounts Team. Richard was nice enough to share his "car breakdown" inspired cake with the rest of the team,  so we have all sat down with a nice cup of tea and slice of cake. But I hear you asking "why a car breakdown cake?" Well it has something to do with Richard's amazing luck with cars. Happy Birthday Rich!
Paul
We would like to say a big Happy Birthday to Odyssey Engineer Paul Concannon. It couldn't be more fitting that out 'phone loving' engineer had a cake made by The Cake Works in the shape of the same thing.
Paul didn't mention his age, but I think we can safely assume the era of the phone style has no direct correlation with Paul's age.