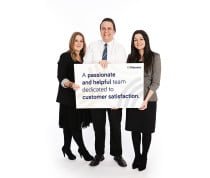 We know that communication is an essential part of business. It's what makes things tick and progress; it lets ideas develop and achievements be made. That's why we've compiled this two-part blog giving advice on some techniques to make the most out of telephone systems in business. It's simple stuff that everyone should be doing. 
1. Choose the right business telephone provider, and stick with them 

Communication is the life blood of business. Therefore, choosing the right supplier is, well, kind of a big deal. Plus, trusting your business telecoms to more than one supplier could introduce confusion and, in turn, wasted money and time. Ever experienced an issue where fingers are always pointing somewhere else? Dealing with a single supplier for your telephone lines, calls, system and connectivity allows you to assign ownership and clear responsibility for ensuring your business remains connected. At Odyssey we take the time to get to know where a business has come from, where they're going, what their challenges are and where they need support. 
2. Think hard about who will choose your telecoms system  
Procuring the right telephony is an art, especially when you think of telecoms as an essential back bone to your business. With this in mind, it's all about thinking really hard about who's going to be assigned the job. The best bet is to choose someone that is motivated by value, not cost. Someone able to gather information from experts in their field, and make an informed decision. Of course, at Odyssey it's our job to help that person, whoever they may be, every step of the way with comprehensive advice.
3. Be aware of nasty billing tricks
At Odyssey, we believe in simplicity. We strive to make everything as clear as possible for our customers because it makes their lives easier and, well, ours too. This, however, is not the case for every telecoms supplier. It's essential to keep your eye out for a few nasty tricks that could be costing you money when it comes to billing:
Call connection fees
Large minimum call charges
Capped rate call packages
Per minute rounding, call commitments
Bundled minute packages
Out of bundle usage charges
Existing contract buyouts and non direct debit payment charges
4. Control phone usage with tailored access and call destinations
There's no harm in introducing restrictions to phone usage in your business. In fact, there are tonnes of benefits to be gained from doing so. Let's take a minute to reflect. Is there really an excuse for spending £3.50 to a118 number when a quick Google would have done the job? At Odyssey, we know how frustrating it can be when spending rockets because of extortionate rates. That's why we inform our customers when they've made a premium rate call. We're also happy to bar destinations at network level, and to set up a "class of service" to limit which handsets or members of staff can make calls to high cost destinations.
5. Get savvy to bundled minute packages 
A surefire way to save on telecoms spending is to make sure that bundled minute packages align with actual minute usage. It's a supplier's dream when 80% of their customers use less than 20% of their minutes. Yet most of us opt for large bundles for the sake of having peace of mind ("I'll never go over that number of minutes.") This often results in a load of minutes sitting there unused, every month. A good way to tackle this is to take a look at the average of the last three months of your business's bills and do a rough calculation on what minutes are going where. Voila – with this new knowledge you're already better equipped to choose a bundle package that isn't ladened with stuff you don't need.
Until part II, remember –  it's all about taking small measures to feel big benefits from your business's telecoms.