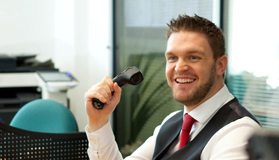 In part two of our blog series on how to best utilise telecoms in business, we'll be looking at the latest telephone system technology, telecoms training and what to do when things go wrong.
1. Making the most of telephone system usage statistics 
Monitoring telephony stats will increase your chances of making savings and reducing waste. Which staff or departments are taking too long to answer the phone? Instead of hiring more staff, monitor average call length and take steps to bring it down. Spot trends in busy periods, and adjust shift patterns to suit. Monitor line usage and scale up or down as required. Advertise a different DDI (Direct Dial In) telephone number on your marketing activities to track return on investment. Spot how many missed calls you're receiving, at what time and to whom. Why not build a set of telephony KPIs and display them on a wallboard in the office – you'll soon find staff start managing their own telephony practices. At Odyssey, we offer a web portal that allows our customers to monitor phone usage at the click of a button. 
2. Utilising the latest telecoms technology
We like to keep up with the latest technology so that you can keep ahead of your competitors. Simple. Here's some of the good stuff we're offering at the moment:
Any Number, Anywhere: with the adoption of VoIP (telephone calls over the internet), numbers from any area code in the UK, or even any country in the world can be delivered anywhere with no redirection fees.
Remote Handsets: desktop handsets installed in a completely different geographic location to your business telephone system that present and ring with your office telephone numbers.
Linked Sites: turn multiple sites into one fully integrated telephone system.
Mobile Extensions: forget having three different telephone numbers. Advertise a single telephone number that will reach you on your desk phone, mobile or laptop wherever you are in the world.
CTI: Computer Telephony Integration bridges the gap between your phone and PC. Automatically open a customer account in your CRM when they ring, or prompt staff to update records after a call has completed.
3. Training your team in telephony
At Odyssey we're believers in the power of education. We offer free training for all of our customers, not just when their telephone system is first installed, but ongoing to make sure everyone is kept in the loop. There are hundreds of powerful features in telephony that can really help your business function, but as a starter for ten ensure staff can complete the following: blind transfer, attended transfer, call parki
ng, call pickup, monitor, barge, conferencing, call forwarding, DND, and voicemail. Fully trained staff means quick, efficient handling of calls, which means avoiding time and money wastage. Simple. 
4. Having a backup plan
Technology is fantastic; it's what makes what we do possible, but as a fact of life we need to be prepared for failures and glitches. Things can go wrong for all sorts of reasons; power surges, power loss, damage to external cabling, accidental cancellation of required services – the list goes on. At Odyssey, we make it our responsibility to provide help when it's needed. We have fully trained engineers at hand, and are always stocked with the hardware needed to replace any part (even for equipment that's long since been discontinued by the manufacturer). For power, we'd recommend running your telephone system and associated equipment via an uninterruptible power supply or UPS. There are loads of measures like these that you can take to ensure you have the best chance of avoiding trouble. We're happy to advise you on all of them and, of course, be there when you need an expert hand. 
When it comes down to it, it's important not to disregard telecoms as a minor part of any business. With the right attention to detail and good advice from experts that care about your business, telecoms can perform at optimum level to ensure communication never fails.